The Definitive Guide to Creating an Effective Employee Recognition Program
Many jobs in today's working environment are busy, with a demanding schedule and deadlines. Workers value being appreciated, but how do you do this in a meaningful way that doesn't appear cheesy and false? Integrating an employee recognition program into your organization as a formal structure is fundamental as it sets the foundation for development and a positive working culture. Here are a few ideas on how to create a meaningful and sustainable employee recognition program in the workplace.
Think Culture
It's easy to set up a few award systems to get the employee recognition program in place. But that's only a small part of the work. In order that staff feel valued and appreciated there are a few steps to take before implementing awards. One of those is working on the organizational culture to ensure you have one where staff feel valued at work and that employee recognition system is meaningful to workers. Start by doing a cultural audit which will indicate areas that need to be improved. Openness and a positive culture on development will all help build the blocks for that successful employee recognition program.
Get to Know Your Staff
Believe it or not, there are some places where the boss doesn't know the names of their employees. Just asking your staff if they had a good vacation, how their kids are doing, and remembering special events or that someone has a creative hobby makes the employee feel that you are interested in them as a person. Share those thank you letters you get from clients as examples of the fantastic job that people do at work. Continual and spontaneous positive feedback is an excellent way of recognizing the value of employees and creates a positive culture in an organization. This is a fundamental step in showing staff that someone recognizes the good they do.
Ask Your Employees
It is important to be in touch with the feelings of the workers in your organization. Asking for feedback is vital as it promotes an open culture and gives you insight into things you may not consider relevant but in fact are highly significant to an employee. Maybe you have a staff presentation coming up soon. Instead of blinding your staff with data, take a minute to prepare by walking round the company and asking them what they would like to hear from you. The answers may surprise you, and you will need to be responsive to some of the requests. It does show you recognize their opinions. Significantly, it gives you some focus on where to direct attention to create a positive workplace culture.
Create Meaningful Incentives
There are many ways of rewarding staff for meeting targets and achieving success. These are popular and drive competitive behaviors, but you can reward other talents that go towards creating a healthy working environment. What about an award for the employee who supported another staff member or team to get a difficult job done on time? Or the worker who stepped up to do something special for a colleague in a crisis? Having a reward where someone is nominated by peers will identify those folk who may never have come to your attention -- and it encourages team spirit. Rewards don't have to be ostentatious either. Sometimes, just giving a worker an extra day off to be with their family is reward enough.
Formalize Your Employee Recognition Program
By formalizing your employee recognition program it gets embedded in your organization and in the culture. Make sure there's an innovative development program aimed at all levels of employee which actively encourages growth on a personal and professional level. Ensure it includes courses on improving culture such as coaching and positive conversation with others as these build the healthy working environment culture you need. Keep the program high profile by having a monthly celebration of an employee who went above and beyond the call of duty to do something special. This, and your rewards for employees will encourage people to work as a team.
Be the Catalyst in Your Organization
As a leader, you need to emulate the behavior you expect to see in others. Building trust is vital, as is listening. Take time to embed these ways of working in your company, especially those that value employees. Make opportunities available for staff development and learning so there are routes to promotion for all levels of employee. Ensure people are clear on objectives and have an appraisal annually so their achievements can be supported and celebrated. Giving opportunities for people to suggest new ways of working or trialing initiatives creates interest and innovation, which supports a learning environment. This gets your company on the map as a positive place to work and one where talented people want to be employed.
Go the Extra Mile
The employee recognition program does not stop at your doors. Make sure you get your staff nominated for national awards, and other prizes. This raises their profile and creates a positive working environment but it also showcases your workplace for its achievements. By submitting award nominations to high profile programs your workers will see how valued their projects are. It will also encourage others to see your organization in a positive light, consider it as a potential place to work, and even collaborate on projects.
The Simplest Way to Create Recognition at Work: Just Say Thank You
It costs nothing but means a lot to staff who spend most of their working lives in your company. Appreciating the effort people go to is a big deal. When you give a staff briefing, give a shout-out to those who deserve it. After a complicated meeting where staff supported you, go find them and show how much you appreciated their hard work. Or how about thanking the caretaker who swept the snow off the sidewalk outside your office? Saying thank you shows you care and have recognized the work your teams have done. It indicates your respect for them, and chances are they will step up for the next challenge.
Take those first steps today and start rewarding your teams with a few simple but meaningful actions.
How to Engage Disengaged Employees
Disengaged employees can be disruptive to the core business of a company. Workers get disengaged for different reasons. This can be due to a restructure, a lack of leadership, or a toxic culture. If you have a department of disengaged employees or you inherited a team that is out of synchronization with the core strategic business, here's how to get people motivated about employee engagement.
Listen and Learn
When you have disengaged employees, it is vital to find out why. You can resolve some problems quickly. Others take longer, and involve significant organizational development. One of the first things to do is to listen so you build a picture of what is going on and why people may be behaving as they do. Set up meetings with individuals, and offer to attend team meetings to get a handle on the situation. Listening to people about their concerns could challenge your assumptions on the disengagement.
Communicate
Employees become disengaged when they are not told what is happening in a company. This leads to rumors and to a lack of clarity on the aims of the business. Be very clear with employees about the organization and your plans. When you do a staff briefing, the employees are not only listening to what you are saying. They are watching your body language too, and how you respond to their questions. By being open and up front, you build trust and engage the employees in the business of the company.
There will be issues you cannot communicate to a wide audience. Regular staff briefings will help build the trust needed and start engaging people. It is also an opportunity for disengaged workers who don't want to work with you to consider moving on to another organization. If staff are leaving, offer the opportunity for an exit interview. This can reveal issues that need to change to fix employee engagement in a positive way.
Introduce an Organizational Development Program
Continuing to work in the same way with disengaged employees will not solve entrenched problems. When you establish a program of organizational development to address the culture and give the employees professional skills, you show you are serious about change for the better. It also creates a supportive working culture that positively engages employees. Design the employee engagement program to include entire team participation on culture. This ensures ownership of the issues from everyone.
There are opportunities to include other developmental tools. This includes one-to-one coaching, focus groups, and action learning sets. This is also the time to baseline your issues. Include employee engagement indicators such as a cultural audit or a survey report. By establishing the baseline, you will be able to show the differences made to influence positive employee engagement .
Establish a Staff Forum
Show you mean business in improving employee engagement by establishing a staff forum. In a large or medium-sized organization, a representative from each team works with others to improve workplace issues. This instills staff ownership of the problems and is a clear process for solving issues. This includes desk moves, changes to the working environment, and more. They can also set up employee incentives. Examples include access to gyms, lunchtime Pilates, and other benefits. Once you start working on employee engagement in this way, it will encourage others to join in.
Be Clear on Objectives
One of the reasons employees become disengaged is a lack of direction or clear opportunity for development. Make sure all employees have clear written objectives linked to strategy. These objectives need to be achievable and understandable. They need to include some that address personal development as well as departmental objectives. Personal development encourages growth in the teams and creates developmental opportunities. Using SMART objectives is a standardized way of setting out aims to achieve. These SMART objectives must be Specific, Measurable, Achievable, Relevant, and Time specified.
Set Employee Incentives
Introducing employee incentives is an excellent way to engage staff. These can include health insurance schemes, fitness programs such as access to a gym, and sabbaticals for longer term employees. You need to make sure that you link at least some of the incentives for working at your company to achievement of objectives. This ensures employees will have a degree of focus on the incentives available. Examples include an extra day of paid annual leave for achieving a target or having no sickness absences. Other incentives include funding higher education programs or attendance at a conference.
Introduce an Employee Recognition Program
Celebrating success is a valued motivator in organizations. It is an excellent way to get people to engage and focus on achieving successfully. If you have disengaged employees, you have a great opportunity to boost their engagement them, but make sure that some of your reward schemes are team-based. This will encourage people to work together and use their strengths to make things happen. Examples of rewards include Team of the Year, Team That Has Made the Most Progress, and Most Significant Team Achievement. Some rewards can go to individuals as well, to reward successes and progress. Don't forget to include rewards for those who go beyond the call of duty to do something, as well as length-of-service awards.
Take an Interest in People
Without being intrusive, you can achieve a lot by simply taking an interest in the staff themselves. Asking whether someone enjoyed their weekend or asking after an employee's family shows you take an interest in them as an individual and not just as someone on the payroll. Acknowledging the backroom staff is vital too, as they frequently work unnoticed. By thanking employees for what they do, you build bridges with culture, trust, and positive employee engagement.
Establish a Program of Continual Review
You took on a department of disengaged employees. As the boss, you need to check in and monitor the impact of the changes you made. This includes the difference they are making to the business. A baseline cultural audit will have revealed things that need to change through developments. Make time to revisit the areas of concern and see how the cultural indicators have changed. You can also introduce 360-degree feedback on issues, including your performance as a manager. This encourages an open culture, and gives the opportunity for employees to critique things they would like to see change. By being open to change and constructive feedback, you will encourage positive behaviors.
When you use a variety of techniques to address culture and motivation, you can change a disengaged employee into one that engages. They will also be more focused on the work program.Take the first step to positive employee engagement today by getting professional support and advice from CoreCentive.
An Overview of Employee Service Awards Programs
Reportedly, 75% of employees who received monthly recognition feel satisfied with their job.
This speaks for itself on how practicing employee recognition can change the outcome and the outlook in the workplace. Outdated or nonexistent programs add little to nothing to employee satisfaction or to your bottom line. Understanding the value of a service award program for employees can be the first step towards a transformation. Begin by learning how to structure such programs for a better return on your investment.
The Advantages of Service Rewards and Recognition
Employee service awards acknowledge employees' longevity and continued commitment to the company.
Everyone likes recognition for their hard work, and it is no different on the job. In fact, workers who don't receive recognition of any type are more unsatisfied, leading to laziness and carelessness on the job. In this situation, workers feel as if they are only working for money, which is not satisfying enough. They want to feel as if they are doing a good job and appreciated for what they give to the workplace. This acknowledgment provides several positive benefits.
Here are some thoughts to consider:
Service awards are a simple way to provide staff recognition and show appreciation. Achievement is straightforward and objective. All employees, regardless of performance level, are able to achieve longevity.
Though the recognition reflects on the individual employee, the award also reflects upon the company. The service award acknowledges that the company has retained employees for a length of time. This suggests that the company is a good place to work and deserves employee loyalty. This contributes to a positive reputation, which helps when recruiting new employees.
A length-of-service milestone anniversary is like an employee's corporate birthday. Take the opportunity to celebrate.
When an employee feels recognized by you as an employer, that employee likely feels more engaged. Employee engagement keeps staff productive, committed and more satisfied. All companies should incorporate ways to recognize their employees in their retention strategies.
Developing Milestones for Employee Recognition
Incorporate rewards beyond a physical gift. Tokens of appreciation can take many forms.
Also, incorporate rewards often and at expected milestones. Doing so will keep employees working hard and committed to their jobs.
Employee Performance Rewards
Send rewards according to a set schedule for employees who meet your criteria. For example, you may set a schedule of three months. In this case, you release rewards every three months to those who have completed the required criteria for their position.
Or you may consider sending rewards for special accomplishments. Just make sure that these are accomplishments from work and commitment so that employees don't feel overlooked.
It is important to remember that this program is performance-based, so you're aiming for better results.
Employee Anniversary Rewards
You may choose to send out recognition rewards for employee anniversaries based on their first day on-the-job. This type of recognition is priceless, as it allows the employee to feel appreciated and motivated. Doing so will encourage them to want to stay with the company. This is one of the biggest motivators for happy employees, and happy employees equal a successful business.
Employee Awards Programs
You can also partner with a trusted vendor who specializes in developing award programs on behalf of employers. Choose a service provider that will allow your employees to choose from a selection of possible awards. People appreciate the recognition, but they also appreciate quality gifts.
The Importance of Engaging Employees in the Award Program
You will spend a significant amount of time developing this award program and integrating it into your workplace. Now, how do you ensure that your employees are on the same page and willing to follow the criteria you set to earn the awards?
This process is simple if approached correctly, which involves full communication and transparency. In addition to these 5 tips,
First, inform your employees of the new reward system. Do this either through verbal communication or advertisements. Make the program enticing and exciting.
Next, create a family environment with your employees, but make it competitive. Most people are naturally eager to showcase their talents, especially when competing with their peers.
Finally, keep tabs on everyone's progress. This creates a system of accountability. It will also give you a good idea of how well the program is taking effect and allow you to spot any necessary changes.
Engagement shouldn't be difficult. As long as you remain transparent with your employees, they should jump on board with no problem. The sole purpose is to inform and motivate, not to pressure the employee.
How to Develop an Effective Employee Award Program
Of course, you want to develop an awards program that is effective. But what does that mean, exactly? The program should reward employees with recognition and awards that your staff appreciates and find meaningful.
Keep the best practices in mind. You know your employees and your business the best, so find out what works for them when introducing new changes to the workplace. This includes finding:
The best methods of communication
Most effective way to approach them with new ideas
Top execution skills to get the job done
Popular Employee Awards Program Strategies
Industry experts identify some common elements of any effective awards program. When developing or restructuring your company's awards program, consider the following:
Clearly define the program. Be sure you define the program's purpose, goals, and structure clearly. Communicate these to all staff, and make sure they understand.
Keep employee recognition programs as transparent as possible. Staff should understand expectations from the start.
Maintain visibility. Companies should not develop, implement, then put aside or forget employee recognition programs. Continuously promote your program at all levels within your workplace. Companies should recognize their workers' commitment and effort.
Be consistent. You must give rewards on a fair and consistent basis. Consistency helps build a culture of recognition. This culture is where appreciation becomes the expectation rather than the exception.
Developing a working system may take some time, although you can certainly ask for help. It is important to be thorough, patient, transparent, and consistent. The benefits will provide for both the employees and the entire workplace, which will leave everyone feeling satisfied with their jobs.
Follow Internal Revenue Service guidelines.
The service award should reward the recipient, not punish them with extra taxes. You must follow specific tax code guidelines so that the award is not part of an employee's wages. Don't worry; this process can be simple and easy to put in place. Working with a service award program will ensure that your rewards will fit these guidelines. Although to be excluded from an employee's taxable wages, an award for length-of-service or safety achievement must meet certain requirements:
The award must be an item of personal, tangible property.
The company must give the award during a meaningful presentation.
No more than 10% of eligible employees may get the safety award during the same year. (This excludes managers, administrators, clerical employees or other professional employees).
They limit the length-of-service awards to only once every five years. They also have limited the award exclusion to $400 per employee per year if there is no qualified plan and up to $1,600 under a qualified plan.
A

qualified plan

award is an achievement award. This award is a part of an established, written awards program and doesn't favor highly compensated employees.
The following are not tangible personal property and if given as an award, their value is a taxable wage:
Cash and cash equivalents
Gift cards, coupons, and certificates
Vacations
Meals
Lodging
Theater and sporting event tickets
Stocks, bonds and other securities
Achieving Results
Implementing an employee service award program can change the foundation of the workplace. The program can provide greater results, happier employees, and a better work environment for everyone. Although, it does take hard work to set a plan in place that will honor all the steps it takes to reach results. Once the company meets those results of increased business and happy employees, the hard work will pay off.
Key Takeaways
Remember to follow the IRS guidelines when choosing your rewards.
Engage your employees and keep the rewards enticing and thoughtful.
Check in with your employees' progress to ensure the movement and progression of the program; this ensures success in the end.
Find

a vendor

to make the process easier, if necessary. This will take a lot of the work off of your hands and reap rewards more quickly.
Remain transparent and communicate often with your employees. Communication is a much-needed skill in the workplace.
Be creative and thoughtful when it comes to the reward system. Think of your employees first when making final decisions.
Ideas for Gifts and Program Development
Companies that have taken thoughtful and strategic steps to deploy strong recognition programs have proven that the effect on employees and the organization is a very positive one. A company can expect increased candidates during the employee recruiting process, higher retention rates, increased productivity, and a greater returns on investment when compared to companies within their same industry. Here are a few tips on ideas to get the most out of your employees.
Simple expressions and statements tend to be the best ways to show appreciation to your employees. Show appreciation for exemplary performance and desirable behavior. Sending a personal note demonstrates your appreciation. You can combine recognition and appreciation in a public presentation to an audience of co-workers.
Involve staff in the program creation. Regularly seek feedback and make adjustments as appropriate. An awards program that employees don't find rewarding is not motivating or inspiring.
Incorporate rewards beyond a physical gift. Tokens of appreciation can take many forms.
Consider providing service awards to shorter tenures as well, since on average employees will stay with the same employer for just

4.2 years. Because awards for less than five years cannot be deducted from taxes, you might offer rewards of no monetary value. For example, employees who reach two years of service could receive "get out of meeting" passes or the use of a prized parking spot for a month. These mostly symbolic gestures still count as recognition, and even small gestures get appreciated.
Partner with a trusted vendor who specializes in developing and maintaining awards programs on behalf of employers. Choose a recognition and incentives service provider like

CoreCentive

that will allow your employees to choose from a selection of possible awards. People appreciate recognition, true, but people also appreciate quality gifts.
Bonuses and Gifts
There are many creative ways to reward your employees. Cash can motivate some of your workers, but it is not your best choice. Sales people are a great example. Commissioned sales people are motivated by money, and it is easy to quantitatively measure their performance. This type of motivation is very successful and will lead to higher sales and better customer service.
Consider your audience when giving cash or bonuses. In younger generations, a job has become more than a paycheck as these workers are looking for more than just a reward for doing work. They are interested in discovering meaning in their work, and the recognition of money, especially when unaccompanied by a personal interaction between them and their boss or peer, will not achieve the outcome desired.
Another potential problem with cash incentives is that employees will likely spend cash bonuses on their life necessities such as food, fuel, diapers, groceries, etc. These gifts do not provide the ongoing memory or recollection of the recognition event or milestone like electronics, trips or other merchandise.
Providing employees with the opportunity to be rewarded with the gifts they want will make their recognition more meaningful in the long run. Keep in mind that when looking to partner with a recognition solutions provider, make sure they have a robust gift "catalog" that will appeal to your employee demographics. Currently there are 4 generations in the workforce.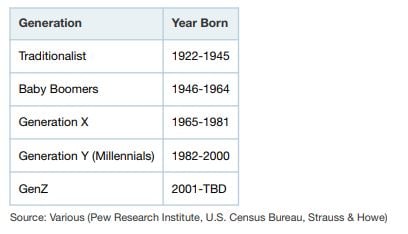 With this diverse set of employees, and consumers that are accustomed to choice when shopping, giving them ability to get exactly what they want will generate the excitement that you want to get out of a recognition program. Whether it is electronics, home goods, apparel, experiential rewards, event tickets, gift cards, or even charitable donations, giving the choice of 10's of thousands of gifts will be sure to engage your employees.
Need help structuring your employee rewards program? Want employee reward ideas from an expert in the incentives industry? Contact CoreCentive to start a conversation that will benefit your employees and your bottom line.
Employee Retention: What It Is and How To Improve It
Are your employees happy at work? If you don't know or don't care, it will cost you. Each time you lose and replace an employee, any employee, your bottom line takes a hit. The extent of the hit depends on the seniority and skill level of the employee.
According to human resources consulting firm G&A Partners, replacing a non-skilled, entry-level employee will cost an employer at least 30% of his or her salary. Replacing a supervisor will cost an employer as much as 150% of his or her salary. Losing a receptionist could set you back more than $10,000. Losing a senior manager could cost you six figures. When you consider employee happiness from a financial standpoint, you'll probably realize that treating your employees well should be near the top of your priority list. Ideas
What is Employee Retention?
Employee retention refers to actions a business takes to increase the likelihood that employees will remain employed there. Employees who feel valued, challenged, and well-compensated, and who enjoy their job and work environment, are more likely to become long-term employees. Anything a business does to keep employees happy falls under the employee retention umbrella.
What Do Your Employees Value?
While the term "employee retention" is somewhat vague and all-encompassing, effective employee retention efforts are specific and deliberate. Before you can take steps to keep your employees happy, you need to identify what will make them happy. Because those answers will vary from business to business you need to ask your employees what they value.
Whether you send out a survey, walk the halls and talk to your team members, or set up an anonymous suggestion box, the first step in increasing employee retention is to find out what your employees value.
Brainstorm Ideas
Once you understand what makes your employees value, you can brainstorm ways to give it to them. And, you can and should get creative. Regardless of what type of business you're in, how many employees you have, and what your employee retention budget is, there are all kinds of ways to boost workplace morale and show employees you value them.
Assign or Hire an Employee Retention Point Person
As with any internal initiative, employee retention efforts will be more effective if there's one person (or a small committee) championing the cause.
If you have 100 employees, you should already have an in-house human resources professional. He or she is the ideal person to identify and implement programs and policies to boost workplace morale. If you're nearing the 100-employee mark, consider hiring a human resources person. If you're a small business, identify a dependable, upbeat employee who has a good overall understanding of your business and is comfortable interacting with all levels of employees. Ask this individual if he or she is willing to take on this role.
Six Specific Ways to Boost Employee Retention
Employee retention efforts need not be expensive, difficult, or disruptive. Variety and consistency are key.
1. Promote from Within
One common reason why employees quit their jobs is because they feel stuck in a dead-end job. If you want to keep the employees you have, give them opportunities for growth within your organization. Implement a policy to promote from within whenever possible. Help your employees grow by offering training or launching a mentorship program, reimbursing the cost of continuing education and training classes, and encouraging employees to approach your employee-retention point person when they're interested in pursuing new challenges within the company.
2. Recognize Valued Employees Individually
Everyone likes to be singled out for something good, and that's precisely what an effective recognition program does. Name an Employee of the Month and publicize to your team why that person received the honor. With this honor, provide a token off appreciation such as a VIP parking spot, small gift, cake, etc.
3. Generate Buzz and Excitement and Encourage Camaraderie
Businesses with a positive workplace vibe are more likely to retain talent. Keep your employees engaged with monthly contests (that have prizes or payouts) throughout the year. For example, organize a Super Bowl pool, March Madness bracket, pumpkin carving contest, guess how many candy hearts are in the jar, etc.
4. Be as Flexible as Possible
Anything that enhances work-life balance is usually a valuable employee retention tool. Again, every business is different and every employee's role is different. When it makes sense, consider allowing employees to telecommute occasionally or have flexible work hours so they can avoid rush-hour traffic.
5. Offer Financial Incentives
Money talks! It isn't the only way to retain employees, but it's one of the most effective. If you can afford it, implement an annual bonus structure to reward your top performers. Knowing that they'll be rewarded financially if they perform is a win-win: it will boost productivity and give them an incentive to stay with the company. In addition, or as an alternative to year-end bonuses, you can also offer smaller financial incentives throughout the year, such as setting a departmental sales goal or setting a goal of zero safety violations within a certain time-frame and offering a cash award once it's reached.
6. Provide Small, Fun Perks Throughout the Year
One way to boost workplace morale and keep employees happy is to regularly show them you appreciate them. Send out a message on Monday announcing that you're sponsoring a Food Truck Friday lunch. Stock your break room with a changing array of snacks. Rent out a bowling alley or take your team to Top Golf one afternoon. Announce an impromptu "We're closing early -- everyone enjoy the afternoon off." Everyone loves surprises!
There are many more employee retention strategies that can be deployed beyond the 6 listed. A business can't survive or thrive without loyal, dedicated employees. Loyalty is earned. Taking concrete steps to keep employees happy is in the employer's and employees' best interests.